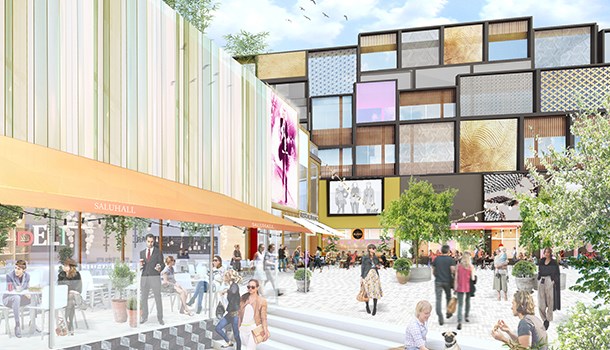 Mörby Centrum to become Danderyds Centrum
We are in the midst of Skandia Fastigheter's long planned reconstruction and extension of Mörby Centrum in Danderyd. The current shopping center will be renewed with 18,000 additional square meters, a completely new facade, inviting outdoor areas and new interiors with generous ceiling height. It will turn into a modern boutique shopping center with a broadened range including both durables and groceries, as well as attractive restaurants and services.
Two new office buildings covering 20,000 square meters in total, of which one is already finished and in use, will also flank the shopping center, and three residential buildings will be built within the area. At the same time Mörby Centrum will get an entirely new brand, including a name change to Danderyds Centrum. The shopping center will remain open with regular opening hours throughout the whole project.
The first stage: an already finished and fully let office building
The first phase of the project consisted of the eight story office building which is now finished and bustling with life, adjacent to the shopping center's south entrance. 90 percent of the 3,277 square meters had already been let before start of construction, and the tenants moved in during 2017.
Within the first phase the number of parking spaces were also increased, from 700 to 1,300, with a new parking building on the other side of the E18 highway, which will later be connected to the shopping center by a walking bridge.
Long-term thinking in everything we do
Sustainability characterises everything we do in the renewal of the area and buildings in Danderyds Centrum. They are to make an as small environmental footprint as possible, while at the same time being sustainable for our tenants and visitors. That is why we are committed to taking our responsibility from start to finish.
To guarantee that we always work according to the devise above, Skandia Fastigheter has decided to conduct environmental certification of all construction and reconstruction projects. The shopping center and office buildings at Danderyds Centrum will be certified according to the international system BREEAM. It is one of the most comprehensive on the market and weighs in not only production, but also the construction process and the building's relation to its environment.
With ten weighted rating criteria BREEAM gives a broad assessment of a building's different environmental and sustainability aspects. It does this within the categories energy consumption, waste disposal, impact on the local environment, proximity to transport links and building material.