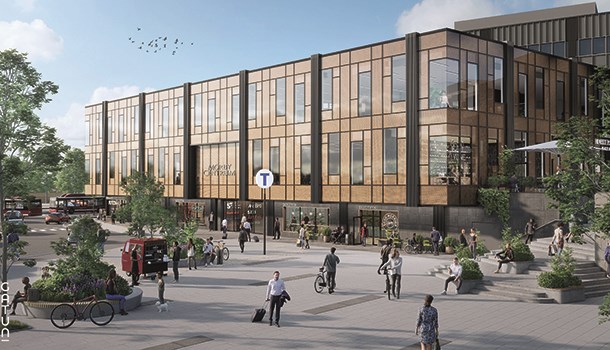 Mörby Centrum under development
Skandia Fastigheter's long planned rebuilding and development of Mörby Centrum is well underway. There is currently a top-to-bottom renovation of the oldest part (the southern part that was built in the 60s) of Mörby Centrum. The shopping centre facility is getting an entirely new facade, a new interior plus an inviting outdoor environment. The current project that concerns the "60s part covers about 20,000 square metres of shops and office premises.

There are also plans to develop Mörby Centrum with around 40,000 square metres, of which 10,000 are shop premises.

Completed: South office building and new parking house
At the shopping centre's southern entrance an eight-story high office building was completed in 2017. Parking possibilities have been expanded with a new parking house with 850 parking spaces that was opened in 2018.
The property has a high environmental classification, according to the BREEAM international classification system.